Celebrating Pastors Ben Cieslik & Mary Pechauer
"For everything, there is a season, a time for everything matter under heaven."
– Ecclesiastes 3:1
Five years ago, Ben and Mary shared that they felt called to lead this congregation into the next season of ministry and they felt called to do that work together. Both had served in a variety of different pastoral roles at Bethlehem, with one another and with our long-time Senior Pastor Chris Nelson.
We are grateful for all the ways have been leading this congregation through change since then. We have known layers of grief compounding, the logistics of consolidating two churches as one, the steep learning curve of building community during a global pandemic and loving our neighbors in the midst of a racial reckoning.
Ben and Mary have often said that their model of leading together has been harder and also better. Their spiritual gifts complement one another. Their mutual trust and respect give them strength and joy for ministry.
When they shared the news that they had discerned a co-resignation, it was with the same clarity and love they began. They shared with humility and wisdom that they are making space for new leadership, new reserves, and everything God still has in store for Bethlehem.
This is a season for blessing Ben and Mary for giving thanks for their discernment, their leadership, and their steadfast spirits. We invite you to share your stories about Ben and Mary's ministries, the ways they nurtured your faith, and marked moments in your life with the promises and gifts of God. Help us celebrate them by recalling some of your favorite memories we'll post them below.
We also hope you will join us on Sunday, February 6 in Minnetonka and/or on Sunday, February 13 in Minneapolis where we'll celebrate them with a blessing during worship.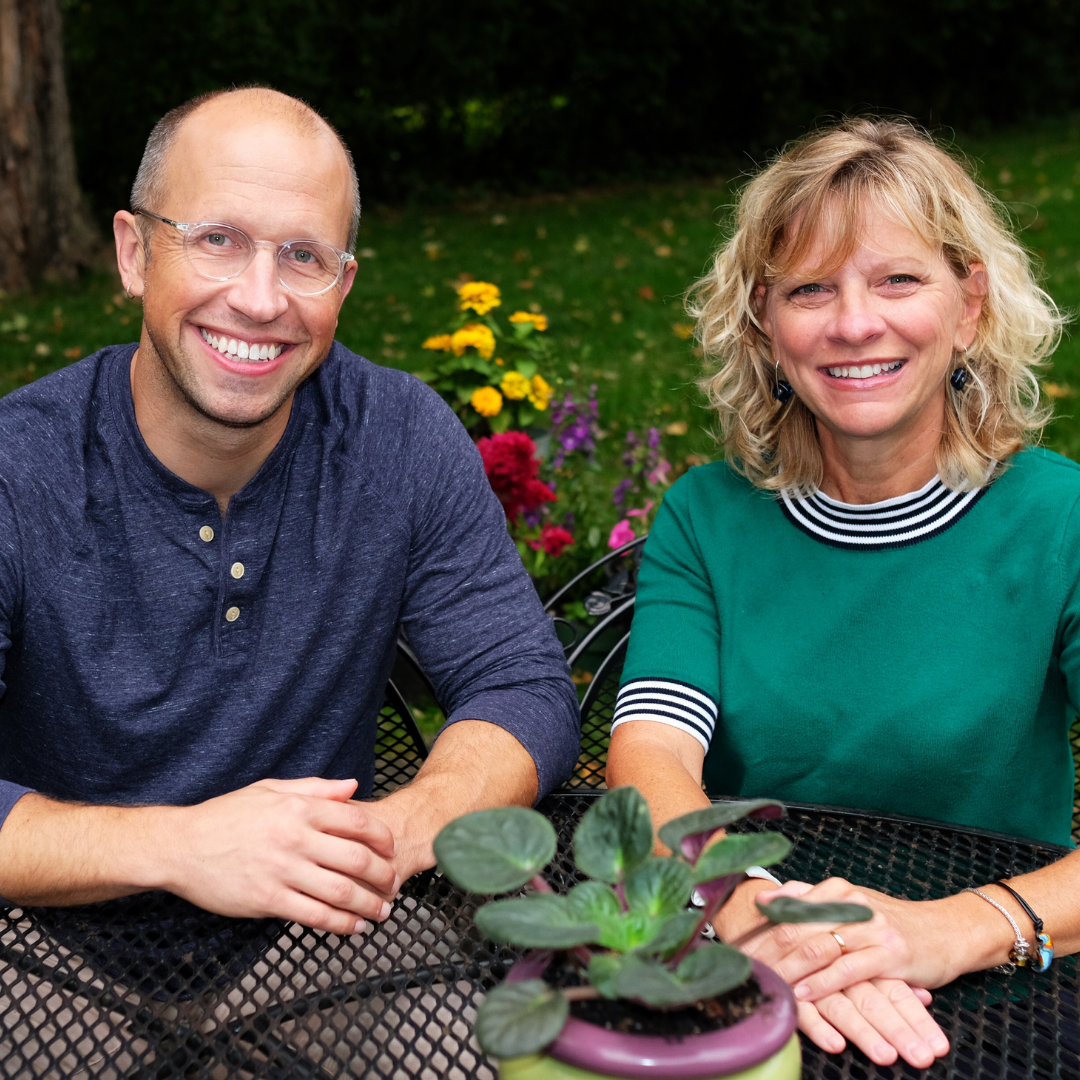 Thanks, Memories, and Well-wishes…
Dear Mary and Ben,
This message is sent with much gratitude and thanksgiving for your leadership during these past years at Bethlehem, especially after the death of Chris and your excellent and creative leadership during the pandemic and racial unrest. It has been stellar, always with a focus on our mission as well as care of our community. Let us repeat — we are so grateful for your dedication and commitment to our life and mission even in the midst of extremely challenging circumstances. We are sure that it was quite exhausting, but we believe the congregation is stronger and more focused on the primary basics of ministry because of your vision, service, and leadership!
We want to wish you the best as you sort out what ministry will mean for each of you in the future. We are sure that you will continue to raise up and focus on effective service and ministry wherever that might be.
Our prayers and blessing go with you. May God continue to bless and keep you in grace!
With love and best wishes,
Nancy and Rod Maeker
---
Ben and Mary,
Thank you so much for your leadership at Bethlehem, particularly in these past two years. You both have handled an unbelievable challenge with grace and enthusiasm. Your ability to pivot the way you work during this pandemic has been admirable. Though Leon and I haven't been as present in the physical church building, we have enjoyed participating virtually and have so appreciated the opportunity to do so and also keep safe during these pandemic times.
Ben- Leon and I are proud to be your first Tinder wedding! It was also an honor to have you baptize our first child.
You both will be greatly missed, but we completely understand and respect your reasons for leaving. We feel blessed to have known you and wish you the best!
With gratitude,
Lauren & Leon Wells
---
I will miss you Mary and Ben and wish you both nothing but the best!
Lynn Gerhard
---
Mary and Ben,
I don't think I can add much to all the thanksgivings and blessings you have already received. I do want you to know how happy I am for both of you and the new directions you are taking. Well done! Bravo! I'm blessed by the pastoral care you've given to me. I am forever changed because I had you both as pastors. Sending this off to you with much love, peace, and thanksgiving.
Polly Henderson
---
Thank you for serving our congregation! I appreciate your joyfulness and kindness. Mary thanks so much for your support of me and my family after John died. It helped immensely. Wishing both of you happiness in your new endeavors.
Peace,
Julie Gerhard
---
Dear Pastors Mary and Ben,
Our family has had a phrase, 'Eternally Grateful' that we have used for years… for the ultimate thank you we could give.* I am ETERNALLY GRATEFUL TO EACH OF YOU . for very personal contacts that I have had with you. Pastor Mary, for loving care during our daughter Amy's illness and a loving message around the hymn 'In The Bulb There Is A Flower ' at her service. Pastor Ben, for a very caring handhold/eye contact/comforting words one Sunday, when I was having a hard moment. ( and thought I was covering it – You saw through me. ( during your first work assignment at BLC ).
MIZPAH – ONWARD
With my love,
Linnea Olesen
*contact me for the 'rest of the story.
---
Ben and Mary,
A quick note to thank you for being wonderful pastors to my mom and dad. They have held you in such high regard. When it came to preaching, my dad in particular had a pretty high bar and he frequently shared his admiration and appreciation for sermons given by each of you. Since my dad's death, Mom has been especially grateful for the Bethlehem Minnetonka family and for your leadership. She was sad to hear that you are both moving on and tried to attend the service at Minnetonka last Sunday but had to turn around due to the weather and road conditions. Godspeed and best wishes!
Heidi Almquist Strommen
---
What I'll miss most are your sermons! So meaningful during these challenging times. Wishing you both the best on your next chapters.
Linda Korman
---
Thank you both for your caring and passionate ministry of Bethlehem during a time of such tremendous change! We are grateful our paths crossed, and we wish you both only the best!
Warm Regards,
The Loth Family (Mark, Chris, Phoebe & Henry)
---
Dear Ben and Mary ~
Thank you for all that you have done for us and for Bethlehem. You will be missed. We will always keep you in our prayers and wish you both the best!
Love ~ Sara, John, Anika and Parker Boss
---
Pastor Ben and Pastor Mary–
We wish you all the best as you journey forward. Thank you for the love and energy you have shared with the Bethlehem community. We will miss you!
Anna and Scott Davis and family
---
Mary and Ben- We have been impressed and blessed to have known each of you for a number of years and for the skills that each has shown while in ministry at Bethlehem. Paul knew Mary's parents at St. Olaf and we were also pleased to know that each of you was a STO grad. You have had a fairly tumultuous time trying to blend two congregations and have done well in doing so- Ben has blossomed in recent years and Mary has blessed us with her long-hewn skills in the ministry. Christ's richest blessings to each as Ben moves to Mt. Olivet and Mary to retirement (at least for the present?)
With love- Ruth and Paul Hauge
---
Nothing is "Forever" and your steady leadership at Bethlehem now comes as another example of that truism. You have given generously of your time, intellect, spirit, and talent and I am grateful for your contributions that have piloted the congregation through some historically noteworthy times of change and dramatic shifts in social context. No doubt, the responsibilities you have borne through the last 5 years have taken their toll; leadership and growth don't come without a personal cost.
I appreciate both of you while at the same time I feel sadness about yet another change. Being on the edge of change is always the hard part; the change will come – for you AND for Bethlehem – and when emerging on the other side we will probably all say "Well, we did it, and that feels better to be through it." I know a wise woman who once counseled from the pulpit: "Pay attention to the interruptions in your life!" I really respect people who follow their own good advice!
Blessings to you both! May God continue to guide your beautiful lives!
Hugs and High Fives! Peace be with you!
Brad Pepin [aka "Greg(g)]
---
Pastor Ben and Pastor Mary,
Thanks for all you have done at Bethlehem and for your kindness to my family. You will be missed!
Barb (DeJonge) Overline
---
Thank you for taking on this big role and following in the giant footsteps of Pastor Chris. Your leadership, wisdom, faith, honesty, adaptivity, flexibility, and love have been so impressive and obvious. You have forever left your mark on Bethlehem and all of us AGAIN! Thank you for leading us in such strange times with such grace. Best of luck in all you do. I can't wait to hear how you continue to touch lives and make the world a better place.
Tina Ham Peterson
---
We want you to know how you have touched our family's lives during exciting and sad times. The marriage of Jon and Meredith by Pastor Ben which Dick was able to attend making it so special for him. The baptism of baby Easton another beautiful celebration. Finally the celebration of my dad's life at his funeral which Pastor Mary made so special. My dad would of loved your Norwegian sweater:) You both have been with us during major family events and every Sunday in between. Know your leadership was appreciated and christian words will be missed. Good luck in your new journeys.
Brad and Mary Meyer
---
All the best as you take on new challenges. Thanks for the good times.
Bill & Kathy Fredell
---
Just sending LOVE and GRATITUDE for the years you have spent with us at Bethlehem. Your words on Sunday are very powerful and we will miss you. Your friendly smiles and conversations will not be forgotten. Good luck Ben in your calling at Mt Olivet. Mary – wishing you happiness in whatever you choose to do. Thanks again.
Sue Johnson
---
Hi Ben & Mary,
I just wanted to wish you both good luck in your future endeavors!
You both got our family thru a difficult time during the deaths of my Mom, Dorothy & brother, Brian. Both services were perfect for them & it was wonderful to have that support.
Laura Cunningham & Family
---
Even though Brent and I moved away from Minneapolis in 2014, Bethlehem still feels like home and has been part of many milestones in our lives.
From getting connected to the young adult ministry with Intern Ben (!!!), to connecting with God on Sunday evenings with Pastor Mary's artistic and contemplative services, to dreaming about new ways to help people in the broader community engage with meaning and faith, to returning for Isaac to be baptized by Pastor Ben at Bethlehem with a witness of family and church friends.
I'm deeply grateful for your leadership through Bethlehem's many transitions in the past 15-ish years and pray for you and the Bethlehem community as you follow your call.
Bethany Stolle
---
Wishing both of you blessings as you embark on this new journey to your next chapter in life. Thank you for leading and sharing the great news of Jesus with us at Bethlehem.
Joseph Lewis
---
Hi Ben and Mary,
I just wanted to give you well wishes on both of your journeys as you each move on into your next adventure. This is truly a year of change. If I didn't tell you this before, I just wanted you to know that a long long time ago I was a Christian Brother for a while and left the church and I've been away from the church for a very long time, coming back to Bethlehem has sparked a new breath in my spirituality.
The two of you and the Bethlehem Community are the main reason if not the only. I tried and failed with a few other communities. You've heard me say this before, but listening to your sermons as incredible as they are has helped me to think about who I am, where I'm going, how Christ lives through me, and how I increase my faith. (I still want to make a morning reading book of both of your sermons!!!!) 😉 just taking a deep breath and putting life into perspective before I speak and act. Even though I have so far to go you have grabbed hold and turned my shoulders and pushed me in the right direction. Sometimes forcefully with your message! 🙂
Thank you both, you have touched many people with your words and action, me included. And now leading by example you show the value of family and relationships and the importance of making sure you are present in the things that matter most.
I hope this isn't goodbye. Thank you and I appreciate both of you. I will be in Florida thawing out on Sunday 13th so, of course, I will miss your last service 🙁 but I know I can view it online.
Jeff Radecki