Children's Ministry (Infant–4th Grade)
Where In the World Is Church?
Sundays, 9:30-10:00 am, Zoom
Recommended for children ages 3 years to 4th grade
Each week, the children's ministry staff and kids choir directors team up to create a video that "sets a song on our hearts, a story on our minds, and a prayer on our lips." Reporter Ron guides the kids on an adventure exploring questions like, "who, what, when, where, how and why" can we be church, even during COVID times?
Kids are welcome to watch together during an interactive Zoom conversation on Sundays mornings from 9:30-10:00am, or on YouTube when convenient. Children from all campuses are welcome. Register to get a weekly email with the weekly Zoom call and YouTube links.
Register Now
Spark Story Bibles
What better way to pass on stories of the faith than for families to have their own story Bible! We are giving Spark Story Bibles to families with children in 2nd Grade or younger when they register for Sunday morning [email protected], or when their child is baptized. If you don't yet have a Spark Story Bible, contact Ann Masica to arrange a pick-up.
Third Grade Bibles
Every year we look forward to presenting 3rd-graders with a Bible in worship. It's part of how we fulfill the promise made in baptism that parents will one day place a Bible in the child's hands and the congregation will help them grow in faith. In 3rd grade we gather families to learn to navigate this sacred text, and then during worship, we celebrate as parents fulfill this promise. To learn more or if your child doesn't yet have a Bible, contact Ann Masica to arrange for a pick-up.
Meal Time Prayers
Want to begin a habit of praying at mealtime, or add some new prayers to your repertoire? Here are some ideas to get you going.
Read More
Noisy Offering
When we're together in Sunday School or ECHO, we learn the habit of generosity by collecting a Noisy Offering. You can create your own Noisy Offering container. Decide as a family whether to support one of the mission partners from church, or come up with your own ideas for saying thanks to God by sharing in the work of God's vision for a healed world.
Storytime in Worship
Kids are always welcome in worship, whether in the sanctuary or at home via livestream. Storytime is geared toward kids and invites us all into the Bible reading for the day. Children's bulletin resources are available on Bethlehem's YouTube channel each week, and are also passed along in the Saturday congregation email.
Children's Worship Resources
Children's Choirs
Children's Choir directors have teamed up with Sunday School / ECHO staff to create the Sunday morning experience. Choirs are also invited to connect with choir directors once or twice a month on Wednesday evenings via Zoom. For more information, contact Ann Masica.
Music & Choirs
Baptism
On the day of baptism, promises are made. Parents and sponsors promise to pray for their child and nurture them in faith, teach them the prayer, creed and commandments, bring them to communion and place in their hands the Bible, and live with them among God's faithful people, so the child will learn to trust God and care for others and the world God made. The congregation, in turn, promises to help the child grow in faith.
Baptism is a communal ritual that welcomes believers to the Christian faith. As Lutherans, we welcome people of all ages, including infants. Prior to a child's baptism, families attend a baptism class (currently on Zoom) to explore the meaning of baptism and to become familiar with the service.
Learn More
First Communion
Kids are welcome to participate in the Lord's Supper at any age – whether at church or at home. It's helpful to have instructions, though, so we invite first-grade students and their parents to come and learn about communion together. Watch for an opportunity later this year, or do some at-home training, if you'd like. If your child is older and hasn't yet received communion or participated in training, no worries. It's never too late to be welcomed to the feast!
Register Now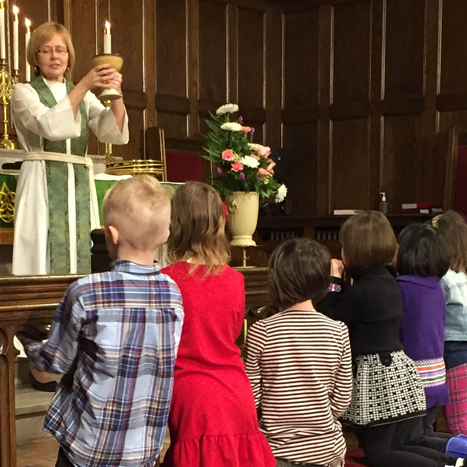 Children's Ministry Staff
Children, Youth and Family Ministry Coordinator
Ann Masica
Phone: 612-312-3407
Pastor of Family Ministry
Heather Roth Johnson