Building a Future with Hope
Capital Campaign
Building a Future with Hope is an ambitious campaign with a particular purpose.  The goals were established by the campaign leadership team after prayerful consideration of where the needs of this moment align with our congregation's mission to share in the work of God's vision for a healed world.  We can only meet these goals together.
So what is your role?  There is only one way to find out:  pray.  Ask this critical question: "Lord, what do you want to accomplish through me for Bethlehem's mission?  How best can I serve you?"
The answer will be different for everyone.  If this is your first opportunity to participate in a campaign know that your gift will automatically increase by $300 thanks to the generosity of the Bethlehem Foundation. If you've participated in previous campaigns, what renewed commitment will nurture growth in your stewardship journey?
Neighborhood Restoration Grants
Is there a cause or issue you feel passionate about? Or something in your community you wish you had resources to help with? If so, Capital Campaign wants to support you through a neighborhood restoration grant. We are especially hoping to engage Young Adults with this project. We have set aside $25,000 to fund local projects and have dedicated a staff member to walk you through the entire process, from developing your unique project to implementing it successfully. Group and family projects are welcome! 
No formal application process required. For more information or to sign up, please email Emily Stoll.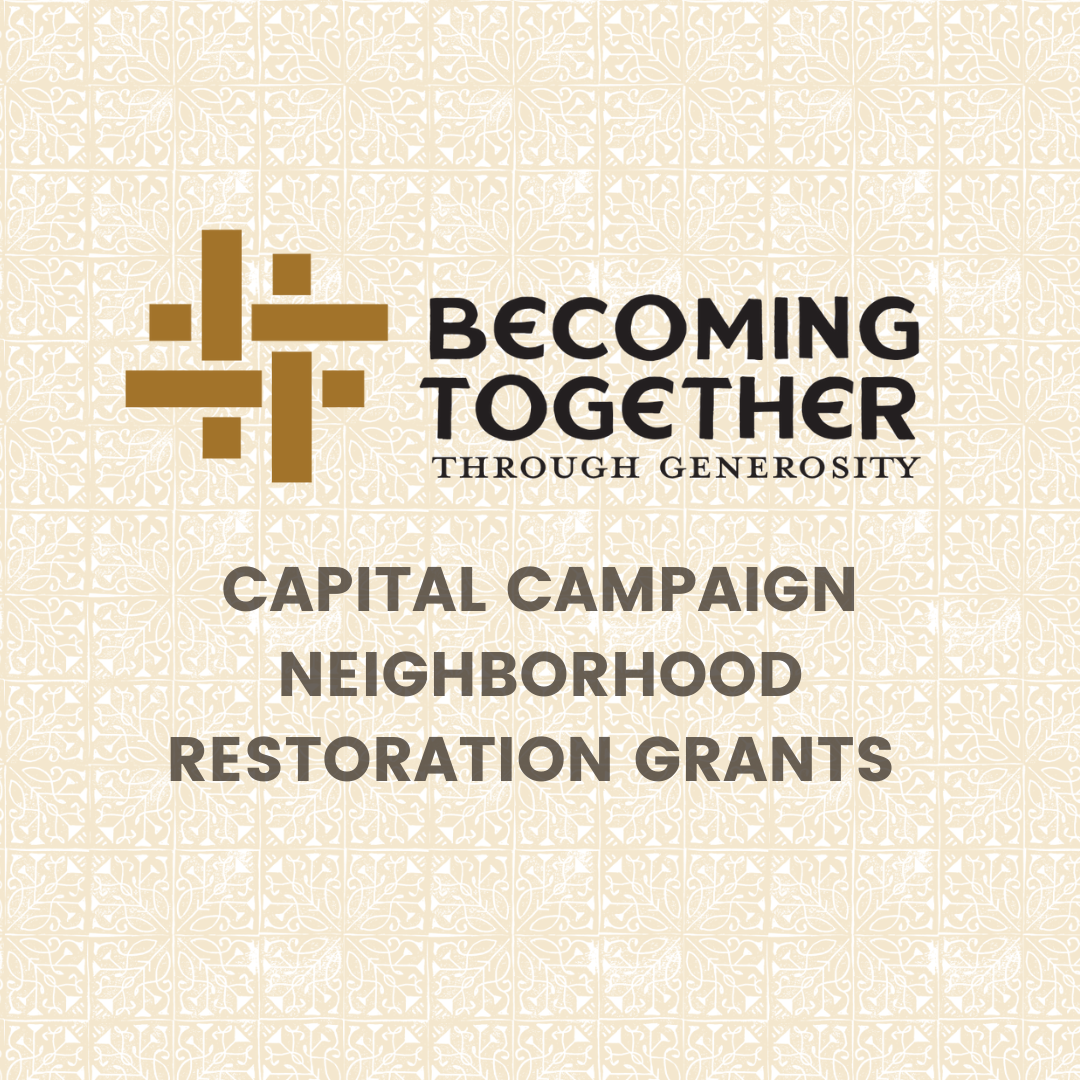 December 2022 Update
The third and final year of this Capital Campaign is underway. We want to thank you for your continued generosity. Your participation and contributions have had a great impact within our own community and across the globe.
Bethlehem Twin Cities continues to have mortgage payments paid as well as building projects completed thanks to the money set aside for these important things. Is the sanctuary feeling extra cozy? The new HVAC units are a wonderful thing, right?

Thanks to funds provided to Mental Health Connect, they have been able to fully staff their Navigation phone line/email as well as hire a Navigator Lead position who can help support staff & develop training around important and relevant topics.

Beacon continues to take steps forward with the exciting Emerson Village build in North Minneapolis. Public funding is nearly all secured, land use has been granted, and building will begin in 2023! Click

here

for an inspiring video from Beacon.

The family housing units at The Ejeda Hospital in Madagascar have not yet been constructed but we are happy to hear that the funds we have already disbursed could possibly fund the full project. We anticipate learning more when Global Health Ministries staff are able to visit the site in 2023.

Starfish Ministries has been a very important resource to so many, especially over the past 2 years. As we face recession and the end of many subsidies/programs created in 2020/2021, the need for this resource is growing substantially. The funds committed by the Capital Campaign are intended to sustain Starfish in these three years. 

Capital campaign funds have made a big difference at Parktown School and the boarding home at Melpattambakkam (MKM) in India, replacing a roof at MKM and much more. Click

here

for more details and here for pictures

.

This winter we are excited to involve our young adults in reaching out to our community with a portion of the funds set aside for neighborhood restoration.
As we enter into the last 9 months of this "Building a Future with Hope" campaign, we are HOPEful that we will reach our goal of 2 million dollars. $1.52 million are currently committed from 337 households. Remember:
There is no perfect time to "jump in" and no minimum gift requirement.

The challenge from the Bethlehem Foundation remains for anyone who has not participated in a Capital Campaign before. They will add an additional $300 contribution to any gift, of any size.
Please see below for updates from some of our capital campaign partner organizations.
October 2021 Update – Global Health Ministries
Kim Dickey from Global Health Ministries shares about how your generosity will soon be helping provide shelter for families visiting Ejeda Hospital in Madagascar.
May 2021 Update
Hear from Dan Ruth, Executive Director at Lutheran Partners in Global Ministry (LPGM) about how Bethlehem's generosity has had an impact in their work over the years, and learn more about what's on the horizon for LPGM, particularly with Park Town School which has a long storied connection with Bethlehem.
You can learn more about Lutheran Partners in Global Ministry on their website.
March 2021 Update
Please watch this video for an update from the Capital Campaign Team. You will hear some exciting updates from Beacon Interfaith Housing Collaborative about their work and how Bethlehem is helping to make home a reality for some of our neighbors in the Twin Cities.
You can also sign up to receive updates about Emerson Village (first choose quantity 1, and then enter contact information). Emerson Village, when complete, will offer about 40 high-quality, well-managed apartment homes in a variety of 2, 3 and 4BR sizes for families in North Minneapolis.
Testimonials
Chris & Tricia Hall
"We give to support the ongoing work of Bethlehem, and we are thrilled that outreach is a large part of that. We are committed to looking outside of our walls (home and church) and addressing the needs around us, and we are happy that Bethlehem is committed to doing this as well!"
Steve & Donita Delzer
"As newer members of Bethlehem we continue to thank God for leading us to Bethlehem. Our commitment to the Capital Campaign is inspired by Bethlehem's commitment to sharing the love of God locally and globally through both word and deed."
Sonja Somdahl & Sig Nordland
"We love the inclusion of the local housing and community funding aspects of the capital campaign, in addition to being good stewards of our church facility."
Staff Contact
Interim Lead Pastor
Vern Christopherson
Phone: 612-312-3411
Director of Administration
Ryan Currens (he/him)
Phone: 612-312-3409